Work's Description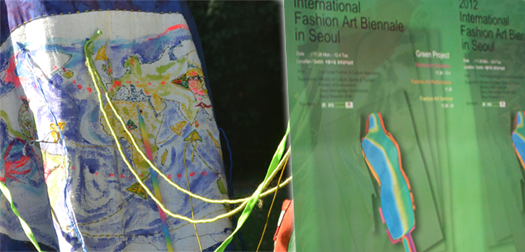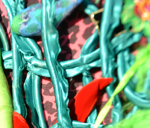 Supermarket World in Detail
(Animation)
Green Project, Seoul 2012
Supermarket World vs World Weavers
follows ...
"The Apron is known as a secret "dress code" on marketplaces all over the world, used by butchers, farmers, fishermen...
That's the reason why I have decided to choose this traditional form of clothing for my art work." (Excerpt from the Lecture)

Zwei mit Bändern und Magneten verbundene Schürzen kommunizieren die Lage der Welt. Die erste Schürze "SUPERMARKET WORLD" symbolisiert den globalen Handel in seiner negativsten Ausprägung, sie zeigt stolz und überheblich all Ihre "Waren". Sie verbindet sich mit der zweiten Schürze "WORLDWEAVERS". Diese verkörpert unsere Mutter, die Erde, die Ihr vermeintlich schutzlos gegenüber steht.

Egal wie die Order lautet - alles wird je nach Bedarf besorgt: Waffen, Menschen, Luxusgüter, Drogen etc. und kann an jeden beliebigen Ort der Welt geliefert werden. Doch wie wir alle wissen, die Erde "unsere" Welt wehrt sich auf Ihre eigene Art.

Exhibition Name: International Fashion Art Biennale 2012
Exhibition Theme: Ecodisaster & Crisis –
Green Practice & Recovery
Exhibition Space: Seoul Museum of Art
Exhibition Date: 24th of November – 5th of December 2012
Work Titel
Material
Introduction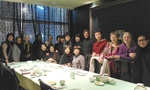 Artists´ Cometogether/View Exhibition Hall